If you look for a Business Intelligence consultant with years of experience, you are at the right place. Our consultancy Passionned Group is 100% specialized in Business Intelligence, letting organizations work smarter* using reliable information, analytics and insights to enhance decision making and improve the performance.
Introduction
Let me first introduce myself. I am Daan van Beek and all of my working life I've been involved in designing and creating management information systems, or advising organizations what works and what not in respect to Business Intelligence. From the start of my career, I worked in the first years as a Business Intelligence developer, I have been always looking for the one million dollar reports, reports that could provide valuable & actionable insights in where revenues were leaking or could be optimized, or where costs were spilled.
When I became a Business Intelligence consultant and a project manager, I sticked to this important principle, and I never regretted it because my customers were happy with it.
"A good Business Intelligence consultant should always look for one million dollar reports"
A book called 'The Intelligent Organization'
I wrote a book in Dutch called 'The intelligent organization' which has come to its third edition (since 2014 the book is also available in English). Most of our BI training material is based upon it. As a Business Intelligence consultant I performed numerous assignments. Among my clients are Air France KLM, Interpolis and the Department of Higher Eduction in South Africa. What I like to do is to help you to increase profitability with Business Intelligence systems that just work.
Our surveys
Our BI consultants can assist you with the selection of the right tooling / platforms for data integration and business analytics quickly. That is because we have done some work at forehand. We have researched all the major solutions in the market on 250 criteria:
The Business Intelligence Tools Survey is a 100% vendor independent, extensive comparison report and market analysis. Use it to choose the best tool / platform for your situation very quickly.
read more...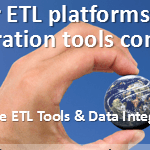 The ETL Tools & Data Integration Survey is a 100% vendor independent, extensive comparison report and market analysis. Use it to choose the best ETL tool / data integration solution for your situation very quickly.
read more...
What we think is important
You might expect from us that we take the following things into account when we have come to an agreement:
We are 100% vendor independent and we don't sell any solution. In addition we don't posses or trade stocks of one the BI vendors. We advice you completely independently which platform to select but it's your own call to actually buy the software.
We bill you only the hours that we really work for you and add value. Our business model is based on adding real value with Business Intelligence and not the billable hours. We want our customers to be heroes in their companies because of the successes they achieved with analytics.
Because we have developed many products (white papers, books, research reports, tools) and training we are able to execute projects in less time than other consultancy's.
How can we help?
Our services are focused on helping you to develop and implement a sustainable Business Intelligence strategy and our Business Intelligence consulting practice is providing software selection services on Business Intelligence tools and ETL & data integration tools. In addition, we can assist in designing and developing a future proof Business Intelligence architecture and data model.
Please contact us if you need a Business Intelligence consultant who knows how to succeed with Business Intelligence.