Daan van Beek is the CEO of the Passionned Group and is a well known speaker on Business Analytics & Data Science, an experienced trainer and an independent consultant. He was born in the Netherlands (Rotterdam), studied artificial intelligence in London, is author of four management books and from the start of his career he has been very interested in management information.
Worked for a variety of companies
He worked as a consultant for a variety of companies, among them Interpolis Insurance, Air France KLM, Phoenix Group, PricewaterhouseCoopers (PwC) and the Department of Higher Education (DHET) in South Africa. He is also the organizing force behind the Dutch BI & Data Science Award, the election of the smartest organization.
Letting organizations work smarter
After three years of working as a Business Intelligence manager at a pharmaceutical wholesaler he started the Passionned Group in 2004 with Norman Manley, former vice-president of one of the largest Business Analytics vendors. The mission of the company is 'Letting organizations work smarter*'.
His favorite quote
When Daan tries to explain that his whole career was about management information en data analytics he uses regularly the following quote:
I was born in a data warehouse and got feeded with much much (bad) data.
His master piece: 3rd edition
Daan wrote the first edition of his master piece in 2004, today there as a third edition available: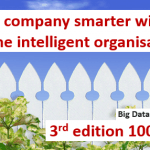 This business intelligence book covers the most important basic principles, organizational processes, architectures, tools and conditions needed to create a truly Intelligent Organization. Making better decisions faster, at all levels
read more...
All over the world
Today, the company is contacted by companies from all over the world to give (online) advice and training, among them ABN AMRO, Domino's Pizza, Deutsche Bank, Menzis, Schiphol Group, Copenhagen Airports, APM Terminals, Lifescale Analytics, China Bank, NASA, Texas Instruments and many more.
What can Daan do for you?
If you want to know what Daan can do for you, please click on one of the following links:
Personal stuff
In his spare time he tries to learn the golf game, he writes and travels a lot. He lives in the neighborhood of Amersfoort, a relatively small town close to the cities Utrecht and Amsterdam.